SIERRA LEONE
The Fotografx team spent the months of July and August 2008 in Sierra Leone shooting a new promotional video for the National Tourist Board. This work is supported by the multi-lateral Integrated Tourism Framework Project. Watch for the video to come out in early October and see it at the major global tourism fairs and exhibitions.
NGORONGORO
Our crew has been working hard at Ngorongoro the last 3 months and we have acquired the imagery for a new documentary video describing the entire Conservation Area. The video will be presented in late July.
If you want more information about this great project, or want a copy of the documentary, please contact us on pix@fotografx.biz
RWANDA
We are pleased to announce that Fotografx has been awarded the international tourism marketing contract for Rwanda. Under this contract we will be producing a marketing video and tourism brochures over the next few months.
Please contact us if you would like more information about this project.
Fotografx Wins Ngorongoro Contract
Fotografx is honoured to announce that we have won a new contract to photograph and produce international brochures in 10 languages for Ngorongoro Conservation Area. The photographic work starts in late December as we aim to complete this important and prestigious project by the end of March 2008. This is the second time that Fotografx has been chosen to provide tourism promotional materials for Ngorongoro and we are absolutely delighted with this contract award.
If you have any comments or questions for us about this project, please contact us at pix@fotografx.biz
Uganda stamp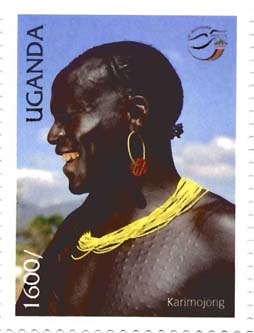 Fotografx is happy to announce a new postage stamp!! Posta Uganda has created a new stamp using the photograph of a Karimojong Warrior that appears on the front cover of our recently released book, Karamoja, Uganda's Land of Warrior Nomads.
Fotografx at CHOGM
Fotografx was selected by the Uganda Wildlife Authority to produce posters and a Power Point show for the recent Commonwealth Heads of Government Meeting (CHOGM) in Kampala. See the POSTERS section of this website to look at the posters!
North Korea
In late April 2007, David Pluth of Fotografx will be travelling to North Korea to start a documentary film about the country. He will later be joined by other crew members, Danny Kula (cameraman) and Nichole Smaglick (presenter) as they explore this fascinating land and culture.
VANUATU – The John Frum Movement
In February 2007, we were back once again to Vanuatu on the remote island of Tanna, to help Spectacle Films of New York in shooting a documentary film about the John Frum Movement, a group which worships America and things American.
SIERRA LEONE
In October 2006, the Fotografx team was in Sierra Leone for a month shooting still photography of the country on behalf of the National Tourist Board and Brussels Airlines. In early March 2007, we submitted a proposal to Sierra Leone for the creation of a package of tourism promotional materials.
IK TRIBE DOCUMENTARY
In mid-February, a documentary crew from Fotografx will trek high into the mountains along the northern Uganda-Kenya border to film the lives of the remote Ik tribe. This isolated group of hunter-gatherers is seldom visited in their high mountain redoubts. The Fotografx crew of David Pluth (camera), Lawrence Owongo (sound) and Israel Byaruhanga (production) will be filming the Ik for 3 weeks in preparation for a larger expedition to the tribe later in the year. Watch for the documentary on television!
Exhibition – IMAGINE AFRICA
Fabian-Samuels Gallery in Stäfa, Switzerland, is holding an exhibition of David Pluth's photography, Imagine Africa, from 8 January to 16 April, 2005. The gallery is located at Grundstrasse 83, Stäfa, tel 044 926 8026. Some photographs of the exhibition can be seen here . The Gallery is open during the week from Tuesday-Saturday, 1400 to 1800.
2004 EUROPEAN UNION PROJECT IN UGANDA
Fotografx, in partnership with Camerapix, has won a tender from the European Union's Uganda Sustainable Tourism Development Program to provide a new suite of marketing materials for the Uganda Tourist Board. During late 2004 and early 2005 we will be working on a new website, creating a tourism promotional video, photographing the entire country and producing two new tourism brochures. Everything will be ready in mid-February, so don't miss a chance to see some of these exciting new products at the travel trade fairs